US president Donald Trump is back on the defensive over Russian meddling in last year's election, accusing Democrats of trying to sabotage US-Russia relations.
Speaking to reporters aboard Air Force One, Mr Trump said Russian president Vladimir Putin had again vehemently insisted – this time on the sidelines of an economic summit in Vietnam – that Moscow had not interfered in the poll.
Mr Trump declined to say whether he believed Mr Putin, but he made clear he was not interested in dwelling on the issue.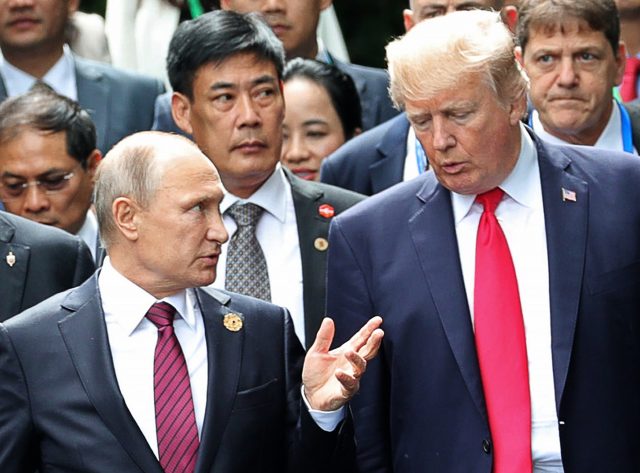 As he travelled to Hanoi, the second-to-last stop of his trip to Asia, the US president said of his Russian counterpart: "He said he absolutely did not meddle in our election. He did not do what they are saying he did.
"Every time he sees me, he said: 'I didn't do that.' And I believe – I really believe – that when he tells me that, he means it."
Mr Trump called the accusation an "artificial barrier" erected by Democrats – once again casting doubt on the US intelligence community's conclusion that Russia tried to interfere in the election to help the Republican Mr Trump beat his Democratic rival Hillary Clinton.
Mr Trump is in Hanoi for a brief state visit.
He will depart for the Philippines later on Sunday for a pair of summits that will close out his trip.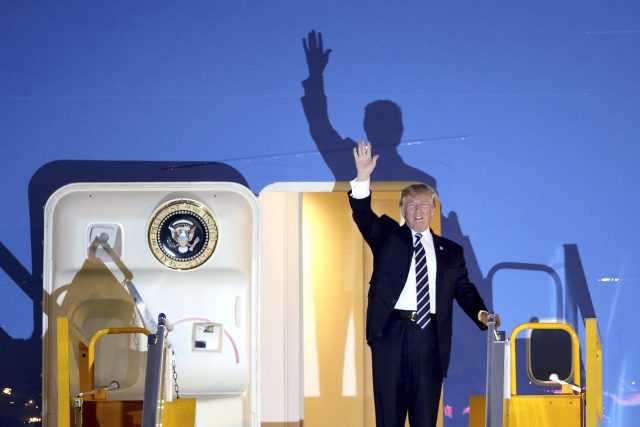 Mr Trump and Mr Putin did not have a formal meeting while they were in Vietnam for the Asia-Pacific Economic Cooperation (Apec) summit, but the two spoke informally several times and reached an agreement on a number of principles for the future of war-torn Syria.
Mr Trump made clear that the issue of Russian meddling in the election hovers over the leaders' relationship and said it jeopardised their ability to work together on issues including North Korea's escalating nuclear programme and the deadly conflict in Syria.
"Having a good relationship with Russia's a great, great thing. And this artificial Democratic hit job gets in the way," Mr Trump told reporters.
"People will die because of it."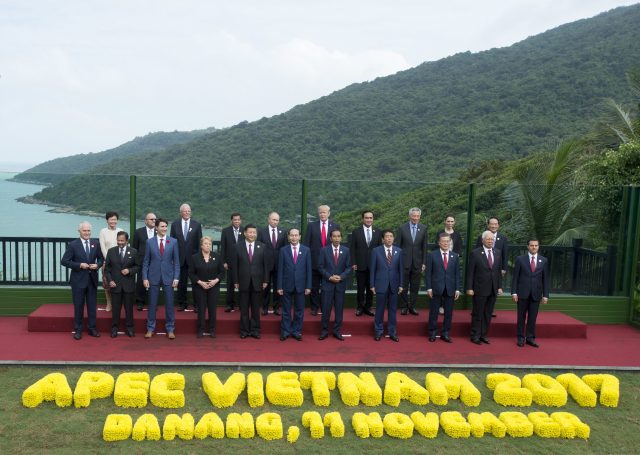 Mr Trump danced around the question of whether he believed Mr Putin's denials, telling reporters that pressing the issue would have accomplished little.
"Well, look, I can't stand there and argue with him," Trump said.
"I'd rather have him get out of Syria, to be honest with you. I'd rather have him, you know, work with him on the Ukraine than standing and arguing about whether or not – 'cause that whole thing was set up by the Democrats."
Multiple US intelligence agencies have concluded that Moscow meddled in the 2016 election to try to help Mr Trump win. But the president called the former heads of those agencies "political hacks" and argued there is plenty of reason to be suspicious of their findings.